My FIRSTs are often disasters…
My first print design went out with millimetres and centimetres mixed up
– a sticker came back the size of a dinner plate.
My first app, which hit the app store the day of the office Christmas lunch, received such horrendous reviews that no one ate their turkey. Probably deservedly so.
My first website was different. Websites are lovely things you know. Unlike careless printers and incensed iTunes reviewers, they forgive you, they let you learn, experiment, and make as many mistakes as you like. Ctrl-F5. Happiness.
Sick of print.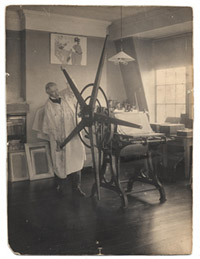 I was in my lates 20′s at the time (early 2000′s), working as print designer in Covent Garden and desperately want to get into web design. Although I still love the smell of a freshly inked brochure, I come from a long line of neurotics and the fear of making mistakes was making me ill. Every print job I sent to the printers left me in shivering in dread: the terror of the typo, the curse of a bad colour profile.
Some good friends took pity on me and had me over for dinner to teach me the basics of teriyaki chicken and HTML. Right away I loved the naughty magic of using data tables to layout your text and images, forcing something designed for dry information into a funky piece of graphic design. I left with enough knowledge to make my first website, all I needed was a subject for a site to practice on.
Mervyn Peake
You may have heard of Gormenghast, the fictional city-castle from the novel printed in the 1940′s; it's less likely you would have heard of its author Mervyn Peake, the late writer, poet, playwright, artist, illustrator, and genius.
I've been obsessed with the work of Mervyn Peake since my art school days, and I couldn't think of a better, or wider, subject. I didn't want to make a "fan-site", so I contacted the author's son Sebastian Peake, who ran the family estate's website and worked tirelessly to promote a wider knowledge of his father's work, and offered my services for free.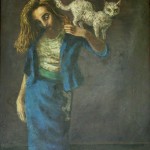 This started a tradition of regular curry meet-ups at his flat in Camberwell, magically festooned with giant oil portraits by Mervyn Peake of his wife, Sebastian's mother, the beautiful Maeve Peake.
My first website for mervynpeak.org was created using an early version of Macromedia Dreamweaver, and featured a bewildering set of nested tables, which was so convoluted that I had a hard time making even the simplest of changes! You can watch as the spacer.gifs load! For the colour scheme, I went with what was supposed to be a "muted parchment" colour, but due to my diligence with "websafe" colours, came out pinky-orange. Yum. It even had an "ENTER" welcome page, very 1990!!!
 1st iteration – 2003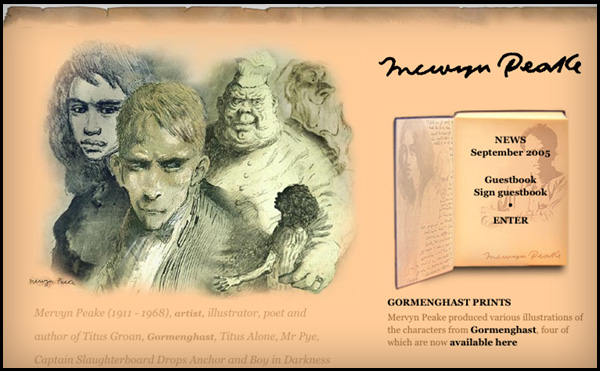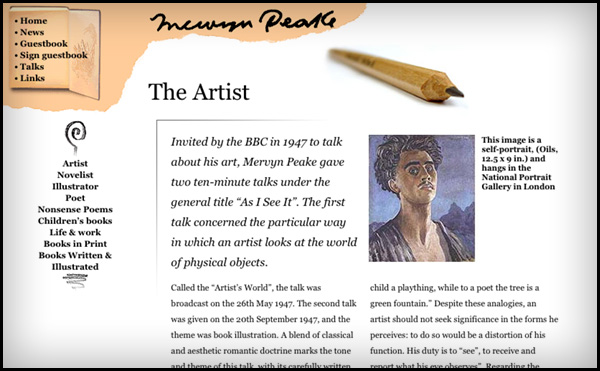 Looking at it again, I still like the illustrative elements. It's not bad, even if it is ORANGE!
See the webarchive from 2003
2nd iteration – 2008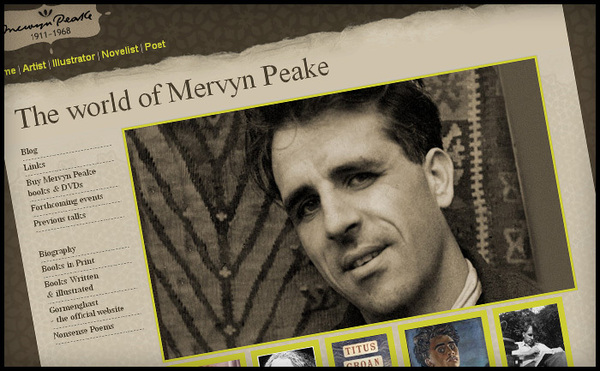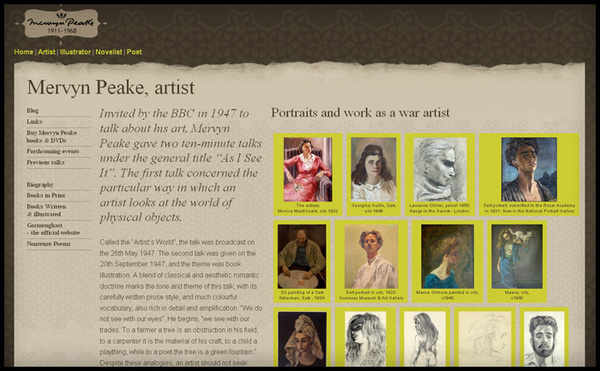 The 2nd iteration kept the "parchment" theme, but now was redeveloped in CSS and semantic HTML.
I was into using "found objects" then, the pape was scanned from a real handmade paper.
See the webarchive from 2008
The site was redesigned, redeveloped, converted to <div>'s, and then redesigned again in a friendship that lasted 10 years until Sebastian suddenly passed away in September last year. He will be sorely missed,  mervynpeake.org lives on.
As I have just quit my fulltime job to go freelance, I'm hoping a NEW design for mervynpeake.org will be MY FIRST freelance website.
Be sure to check out this great competition to Win A MacBook at 123-reg.co.uk